Bee Gym results
I would like to say a big thank you to all of the beekeepers who have tried out the Bee Gym and sent me their results. Your interest and hard work is really helping to sustain this important project.
Bob Maurer's Trial

The control hives (3A and 5) have now had chemical treatment. Hives 1 and 2 are continuing with the Bee Gyms.
In the picture below the mite drop pattern on the sticky board is from a test hive, over three days in early October. The empty frame is there to reference the dimensions of the Bee Gym in the middle of the mesh floor above. In this test hive, the mite drop went from an average of 24 per day to 80 per day, then 145 per day as soon as new versions of the Bee Gym were introduced.
Click image to enlarge: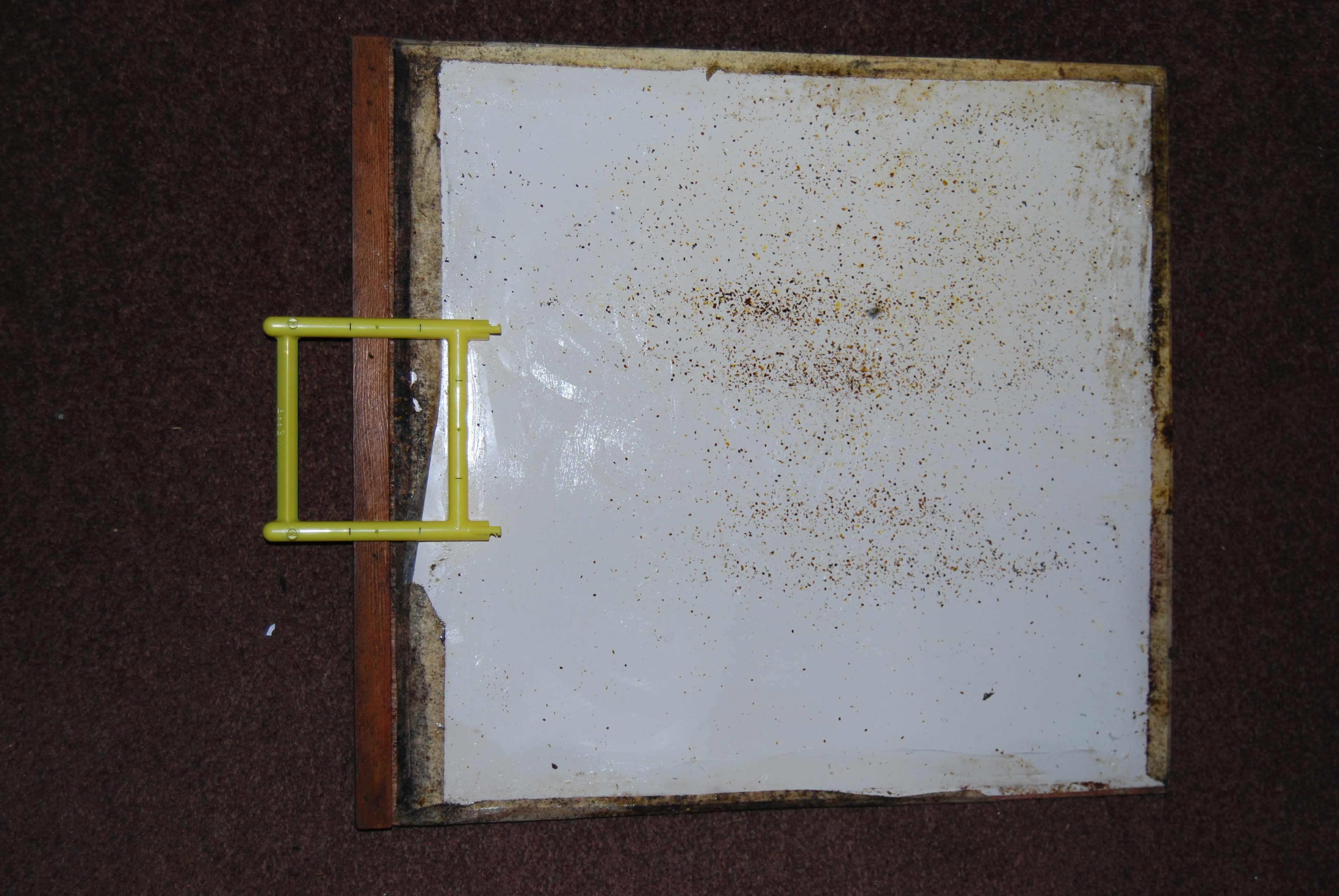 Dan and Gianna's Hive
Apr

May

Jun

Jul

Aug

Sep

Oct
Mite fall in April May June July Aug Sep Oct
The Bee Gym was added in late April.
In mid May the mite level dropped from 6 per day to 3 per day. By July it was down to 2 mites per week (a similar result to Peter's colony). Their hive went on to produce 3 full supers of honey this year.
There could of course be lots of other factors contributing to these results. The Bee Gym will have to be tested in many more hives before it is possible to draw any conclusions about its potential.
Graph A: Peter's Hive Spring 2013
Mite fall in March April May June
The Bee Gym was added on 26th March.
Results from this hive are currently less than 1 mite per week. The colony is going into winter with no other form of treatment.
The point of this graph is to show a colony with a low but significant mite drop level in March. Then the Bee Gym was added. The level went up threefold then came down gradually and is now at zero.
Graph B: Stuart's Hive 1 Winter 2012/13
Mite fall in November December January February March
On the 3rd October a ¼ dose of Thymol (Apilife Var) was added.
The point of this graph is to show that the bees were working with the bee gym during the autumn and winter and the mite drop levels gradually went down to zero. This colony did not build up mite levels in spring, but died out in April as they didn't have enough bees to keep warm in the prolonged winter.
Graph C: Stuart's Hive 2 from Autumn 2012
Mite fall in August September October November
The Bee Gym was added on 6th September 2012.
In this hive the mite level went up again and the bees were treated with Apivar. The levels have stayed very low throughout 2013 so no further treatment will be used this year.
This graph illustrates how adding in the gym causes rapid changes to mite drop levels.
© Copyright Stuart Roweth 2017. All Rights Reserved. Bee Gym™ is a registered Trade Mark. Patent pending.